Install The Wall: People's Gallery 2019 Call for Proposals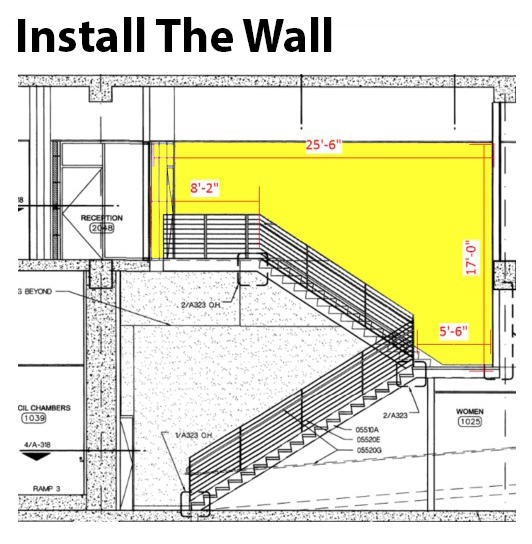 No submission fees, always free to apply!


Summary
Budget: $3,000
The budget will go towards insurance, materials, installation and de-installation of the chosen work.
Ladders or scaffolding for installation and de-installation must be provided by the artist.
Limitations: There are no electrical outlets available for works that involve electronic or lighted components.

The City of Austin Cultural Arts Division of the Economic Development Department is pleased to announce its 15th annual, 2019 People's Gallery exhibition!
Artists are invited to propose temporary, site-specific artwork installations for display in the Mayor's second floor stairwell at City Hall for the duration of the 2019 exhibition. The total project budget is $3,000 and must include all materials, insurance, installation, and de-installation of the artwork. 2-D or 3-D submissions and proposals welcome.
Located on the first three floors of City Hall, the People's Gallery is part of an ongoing Cultural Arts Exhibition Series to showcase local and regional artistic endeavors and to encourage public dialogue, understanding, and enjoyment of visual art. The exhibition is designed to reflect the artistic excellence and cultural diversity of Austin and to promote the City's cultural and economic initiatives. A high-visibility venue, City Hall hosts over 210,000 visitors each year.

Application Deadline: 5:00 P.M., October 17, 2018.

Exhibition Dates: February 22, 2019 – January 1, 2020

Eligibility

Professional artists over 18 years of age, who live or work in one of the following TX counties: Bastrop, Blanco, Burnet, Caldwell, Hays, Travis, or Williamson. Visual arts organizations in Austin are eligible to apply.

City of Austin Economic Development Department staff members are ineligible to apply. Other City staff members are eligible to apply, but may not offer their works for sale.

Application Requirements

Applicants must submit an artist resume (3 pages maximum) and up to FIVE artworks or artwork proposals available for loan for the duration of the exhibition.

For each artwork entry, the following information is required:
One image or video file
Include your name and the artwork title in each uploaded file's name, numbered by the order in which submitted:
EXAMPLES:
01-LastName_FirstName_Title.jpg
02-LastName_FirstName_Title.jpg
03-LastName_FirstName_Title.jpg
04-LastName_FirstName_Title.jpg
05-LastName_FirstName_Title.jpg
Resume (Maximum of 3 pages).
A brief artist statement for each entry. If accepted, each work will be accompanied by a label which lists your statement.
Title, Medium, Year of Completion, Dimensions, Insurance value, and whether the piece is available for sale.
* If proposals of artwork are submitted for consideration, final acceptance for inclusion in the exhibition will be subject to review and approval of the completed work of art.
Please, DO NOT send applications by e-mail or by postal mail. We are only accepting submissions through this site.

Selected artworks must be installed by Sunday, January 20, 2019, and remain on display for the duration of the exhibition. The 2019 People's Gallery Exhibition will run from February 22, 2019 – January 1, 2020.

Selection Process

All applications will be reviewed by a selection panel appointed by the Cultural Arts Division Manager. This year's local selection panelists are exhibiting artists, Vy Ngo, Ric Nelson, and Stephanie Sandoval.
All applicants will be notified of acceptance, modification, or rejection of their applications by e-mail. Please add peoplesgallery@austintexas.gov to your list of "safe" senders so that you receive these notifications. Do not contact staff about the status of your application once the submission period has closed.

Selection criteria may include, but is not limited to:
Quality or merit of the artwork
Cultural diversity of artwork
Local or national reputation of artist
Inclusion in the permanent collection of an Austin-based museum
Timeline (subject to change)

October 17, 2018, 5:00 P.M.: Application Deadline.

November 2018: Applications reviewed and artworks recommended. Show is laid out prior to final review.

Late November, 2018 - Early December, 2018 Final review takes place. Notification e-mails sent to ALL applicants. Loan Agreement forms and delivery information will be sent to selected artists. All selected artists must confirm receipt of acceptance and give notice of agreement to participate, by the deadline provided in the acceptance email.

January 20, 2019: Deadline for artwork installation of selected work in the Austin City Hall second floor stairwell. No artworks will be accepted without a Loan Agreement form. Loan forms to be signed after work is delivered/installed, with City staff.

February 22, 2019 (6-9 p.m.): Opening Reception at Austin City Hall. (301 W. 2nd St.)

Contact Information

If you have questions regarding this call for artworks, please call 512-974-6456, or e-mail peoplesgallery@austintexas.gov. Add this email address to your "safe senders" list so that you will receive our notifications.

For more information and to view the 2019 Exhibition Guidelines, please visit: www.austintexas.gov/peoplesgallery

To explore the current exhibition, City Hall is located at 301 W 2nd St, Austin, TX 78701, and is open M-F from 8-5 (except on City holidays.) Can't make it in person? Visit www.austincityhall.oncell.com to take a tour!

Like the People's Gallery on Facebook at www.facebook.com/PeoplesGalleryATX
www.austincreates.com
@cityofaustinarts on Instagram
Sign up for our Newsletters
Economic Development Department on Twitter